Dumfries and Galloway health board issues savings warning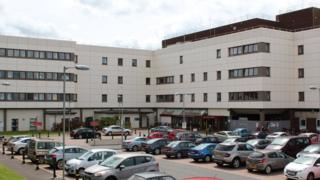 NHS Dumfries and Galloway has warned it could have to deliver savings of about £19m next year.
The total includes an anticipated £5m shortfall from this year's efficiency target of £12.7m.
The plan to carry forward the savings deficit aims to buy health directorates time to identify new areas where costs can be reduced on a recurring basis.
Finance Director Katy Lewis said one pressure area was the cost of staffing medical vacancies and absences.
"Our costs of locum provision and providing safe services are probably high proportionately compared with other boards," she said.
"So one of the areas of focus we are looking at is reducing our need for locums, looking at trying to achieve cheaper rates and also working with our clinical teams to support new models of care.
"We are looking at different ways of covering those medical rotas."
'Difficult decisions'
She said there were also a number of programmes being taken forward looking at reducing "waste and duplication" around drugs costs.
Ms Lewis said that getting rid of buildings they no longer needed might be another option.
"It is not easy and I can't say that there won't be a range of difficult decisions that we'll have to make as a board as we move forward," she said.
However, she said they were trying to focus on areas where they felt they could get "maximum value".