Dumfries and Galloway Council cut-price fitness memberships rise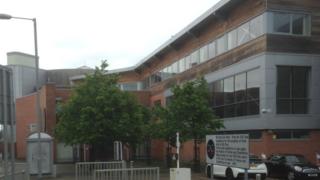 A bid to tackle declining fitness membership levels after the closure of a flagship council leisure centre has proved successful.
A BBC Freedom of Information request earlier this year revealed the scale of decline at the DG One site in Dumfries.
A cut-price membership offer has seen numbers rise at its replacement facilities by more than 40%.
A similar offer at Annan's Newington Leisure Centre has seen its levels more than double in three months.
The BBC Scotland news website revealed earlier this year that membership figures at DG One had fallen by more than 70% from a peak of 1,415 in 2009 to 387 this year.
'Element of risk'
The centre shut for major repairs in 2014 and temporary gym and swimming pool facilities have been put in its place.
A reduced pricing offer appears to have turned around the membership level decline.
They have risen from 389 before it was launched to 561 - more than double the target increase.
The Newington centre has also seen membership go from 106 to 209.
A council report said there was an "element of risk" in moving to a lower price membership but break-even targets had been exceeded.
It also outlines the impact of potentially extending the scheme to the Ryan Centre in Stranraer, Newton Stewart's Merrick Centre and Castle Douglas swimming pool.