Dumfries and Galloway festival policing cost talks staged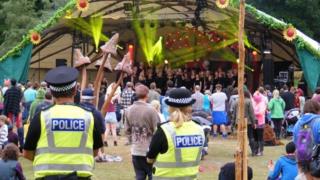 Talks are being held in Dumfries and Galloway over the impact of rising policing costs on music festivals across the region.
Organisers have said they fear events could be forced to close down or move elsewhere.
Police Scotland has insisted that its charging policies are consistent across the country.
They are to meet with organisers and Dumfries and Galloway Council to try to find a way forward.
David Johnstone, who owns the Raehills Estate which hosts the Eden Festival, said the organising team behind the event had to find £37,500 this year which represented a huge increase.
"It is important to get it resolved," he said.
"I think the concern we have got from Eden and within Dumfries and Galloway is there appears to be a discrepancy across the whole of Scotland as to how these events are policed.
"Therefore what we are not seeing is a level playing field."
Police Scotland has said that if event organisers did not pay for policing then the alternative would be to remove officers from communities to cover festivals.