Borders General Hospital failed to spot patient's foot fracture twice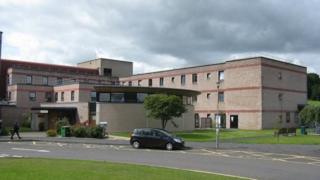 A health board has been ordered to apologise to a patient after failing to spot a broken bone in her foot on two separate occasions.
The Scottish Public Services Ombudsman said the woman had been left in pain for months.
The patient - named only as Ms A - went to the accident and emergency unit at Borders General Hospital twice.
However, it was only when her GP referred her to an orthopaedic expert that a scan found the fracture.
The SPSO found failings by locum doctors who had reviewed Ms A's condition.
Their record-keeping and assessments were described as "below a reasonable standard" given the background to Ms A's injury and inability to bear weight.
Complaint upheld
The ombudsman was also critical that the A&E department had not reviewed the radiology reports, which were abnormal.
It found that both x-rays it had taken did show the fracture but it had still not been diagnosed.
The SPSO also concluded it was "unreasonable" that on each occasion Ms A had attended the hospital she had not been given crutches or a follow-up appointment to check her symptoms.
The complaint about her treatment - lodged by a worker with an advocacy and support service - was upheld.
As well as being ordered to apologise, the health board was told to note the criticisms which had been made in staff appraisals.
In addition, it has been instructed to make improvements which include issuing guidance on handling the cases of patients who cannot bear weight after they have been injured.
NHS Borders said: "We fully accept the recommendations from the SPSO and recognise that the care provided to Ms A was not of the standard that we expect for our patients.
"We have apologised to Ms A for this and the failings identified.
"The actions from the SPSO report have been implemented."