Students injured as coach ends up in ditch near Bankend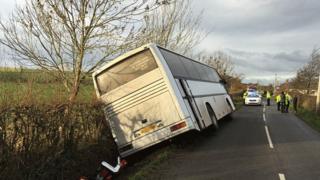 A coach carrying about 20 students has left the road and ended up in a ditch in the south of Scotland.
Emergency services were sent to the scene on the B725 near Bankend shortly before 09:00.
The road was closed and seven people were taken to hospital with minor injuries while the driver was treated at the scene.
The bus was transporting students to Dumfries and Galloway College in Dumfries when it crashed.
PC Stuart Delaney said: "The cause of the crash is still being investigated and we are keen to hear from anyone who may have witnessed it.
"The road at the scene was closed until the bus was recovered.
"The students who were uninjured were later taken on to the college."