Police probe assault outside Dumfries McDonald's restaurant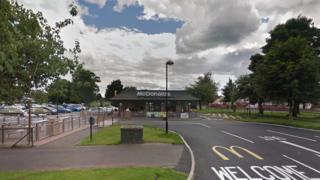 A 17-year-old boy was the victim of an "unprovoked assault" while sitting in a car with friends outside a McDonald's restaurant in Dumfries.
The incident happened at about 23:55 on Saturday outside the premises in the Lochside area.
The teenager refused his assailant's request for a lift and was assaulted and a window on the car smashed.
The attacker has been described as in his late 20s or early 30s, about 6ft tall and of "big build".
He had short dark hair which was spiked up and he spoke with a local accent.
'Minding his business'
He was wearing a dark body warmer over a black sports-type jacket which had green stripes on the sleeves and walked off in the direction of Cuckoo Bridge after the attack.
His victim suffered facial swelling as a result of the assault.
PC Luke Leslie said: "This appears to be a totally unprovoked attack on this 17-year-old lad who was sitting in his car with some friends minding his own business.
"Anyone who can help identify the attacker is asked to call us at Dumfries on 101."