Hawick's Wilton Lodge Park tree removal 'unfortunate'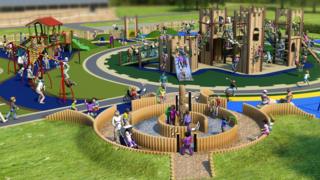 A council has said the removal of a number of trees from a Borders park as part of a £3.65m overhaul is "unfortunate" but "necessary".
A major upgrade is currently under way at Hawick's Wilton Lodge Park.
The trees - some of which are showing signs of disease - are being removed to allow passers-by to see the new attractions planned in the area.
Councillor Gordon Edgar said the works would let the park "meet its potential as a significant tourist attraction".
The tree felling is part of wider work to overhaul the area which is well ahead of schedule.
The majority of work is due to be completed by April next year, a year ahead of the overall project completion date of April 2018.