Selkirk's £31m flood protection works completed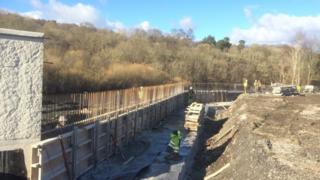 Work on a £31m flood protection scheme for a town in the Scottish Borders has been completed.
The final section of the Selkirk defences was slid into place at Shaw Burn last week.
The works to protect nearly 600 properties have seen burns rerouted and an "intelligent water management system" created at St Mary's Loch.
New embankments and walls have also been constructed as part of the project which began nearly two years ago.
Contractors will remain on site until next month for small engineering jobs.
Remedial works on roads, which include resurfacing, patching and line painting will also be carried out.
An official opening of the scheme is expected to take place early next year.