Dumfries and Galloway festival policing cost concerns raised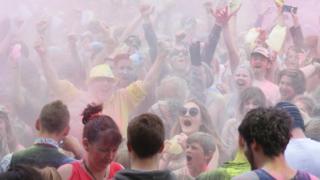 Organisers have said they fear Dumfries and Galloway's growing reputation for staging summer music festivals is under threat because of the cost of policing.
They claim they are being charged more than equivalent events elsewhere and could be forced to close or move.
Police Scotland have denied the charge and said they have a common charging policy across the country.
Talks are now planned between police, organisers and Dumfries and Galloway Council to try to resolve the issue.
The region has seen its festival count rise in recent years with the Wickerman, Knockengorroch, Electric Fields and Eden events amongst other.
However, despite becoming big business for the region, they fear policing costs are undermining them.
Wickerman did not take place this year but after Police Scotland was formed its bill rose from £30,000 in 2013 to £80,000 in 2015.
That is on top of £136,000 for civilian security.
Electric Fields' police costs went up from £1,600 last year to £19,000 this year, although it did double in size and duration.
And the Eden Festival went from £11,500 last year to £37,500 this year.
"Our costs have trebled, that is making it quite unviable to host the event," admitted its director Adam Curtis.
The Eden Festival is licensed for 8,000 people, around half of whom are said to be paying customers.
It is styled as a not-for-profit community enterprise which - until this year - had earned it a 50% discount.
'Rubber gloves'
"There are festivals in Ayrshire with 4,500 on the licence paying zero, Belladrum in the Highlands pays a third of the amount pro rata that the Wickerman is paying," said Mr Curtis.
"Through doing these studies and speaking to other festivals we realised that it's a Dumfries and Galloway policing problem not a Scottish policing problem."
Mr Curtis said his complaint was not just about the cost, but also the style of policing.
"We have had a lot of people saying they are not coming back to the festival because when they arrived there were police in stab vests with rubber gloves hauling them out of cars," he said.
"A lot of families were very upset, everyone was treated like they were a criminal.
"When the crowd actually made it into the main arena the local bobbies were very friendly.
"However, the mass amount of police on the site made it a little bit fraught between punter and police."
'Anecdotal evidence'
He said that had "dismantled" a previously good relationship between the crowd and police.
The issue has been raised in parliament by south of Scotland MSP Colin Smyth who is also a local councillor and Dumfries and Galloway's champion of festivals and events.
"These are not massive T in the Park events, they are a few thousand people and it really does question the viability of those events if the police bill gets too high," he said.
"We are getting a lot of anecdotal evidence at the moment that a similar festival in Glasgow, for example, is actually having a police bill lower than a festival in Dumfries and Galloway.
"When we challenge that the answer from the police is simply to say that they have to assess each festival on its own merits."
He said he wanted to know what charges were being imposed right across Scotland so proper comparisons could be made.
Mr Smyth said there was "clear evidence" Dumfries and Galloway was being penalised.
The local police chief has rejected that claim.
"Discounts that were applied in previous years are no longer being applied and that is to bring a level of consistency right across the country," said Ch Supt Gary Ritchie.
"The Scottish Police Authority have a charging policy, it is up to me as divisional commander for the area to protect the policing of the local area.
"Quite simply if the event organisers and the people going to the event don't pay for the policing who does?"
He said the alternative would be to take police away from communities across the region in order to cover a festival.
"I don't think the public of Dumfries and Galloway would tolerate me removing their policing at the weekends to cover what is, essentially, a commercial event," he said.
An online petition for the Scottish government's culture and justice ministers over the issue is nearing 5,000 names.
On top of that, talks are planned in Dumfries at the end of the month in a bid to bring some harmony to a very discordant dispute.