Praise as lorry drivers cross bridge with turbine blades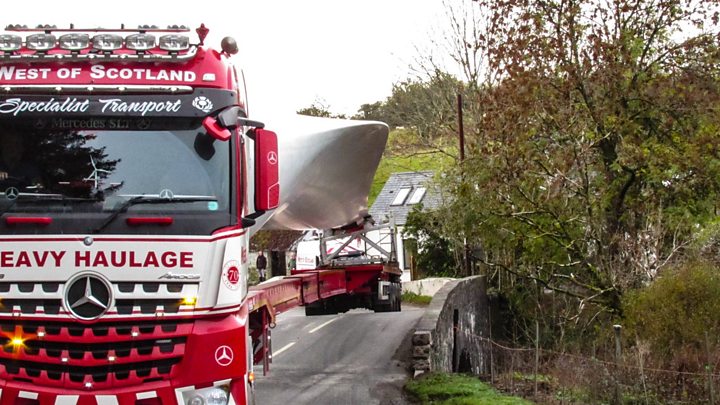 It can be tight squeeze on Scotland's rural roads, but imagine doing it with a wind turbine blade in tow.
Drivers from West of Scotland Heavy Haulage won praise on social media after being filmed navigating a tiny bridge in Dumfries and Galloway.
Landscape gardener Dabby McCreadie captured their skills when police stopped him as the convoy passed Bargrennan Bridge near Newton Stewart.
"They do a brilliant job transporting these loads safely," said Dabby.
"These drivers make two or three trips a week down to the wind farm," he added.
"The loads can be up to 68m long. They have a steersman who operates the back end by remote as the driver can't see it."
The blades were being transported to Scottish Power's Kilgallioch wind farm.
Dabby's video has been viewed more than 40,000 times since he posted it to his Facebook page.
It was filmed at the same spot where a wind turbine lorry caught fire in August this year.