Dumfries town centre theft arrests expected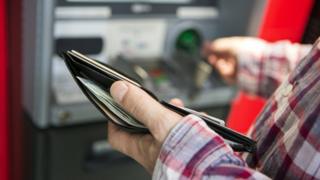 Police have said they are "absolutely confident" they will trace the people behind a spate of thefts targeting elderly shoppers in Dumfries.
The victims have been singled out after withdrawing money from ATM machines or leaving banks.
Ch Insp Stephen Stiff said inquiries carried out by local officers had been widened out across Scotland and were expected to lead to arrests.
However, he urged the public to continue to be vigilant.
"There was at least one, if not two or three individuals that were specifically targeting older people in Dumfries town centre," he said.
"They were following them perhaps into banks and other premises where they realised they would be going to have access to cash in their purses."
He said the culprits would then come up with a ruse in order to gain their victim's confidence and steal the money.
"There were a lot of victims involved," said Ch Insp Stiff.
'Very positive'
It prompted police to liaise with colleagues across Scotland and they subsequently discovered very similar crimes being committed in other parts of the country.
Ch Insp Stiff said they were now following "very positive lines of inquiry".
"I am absolutely confident that these people will be traced and charged accordingly in due course," he said.
Nonetheless, he asked members of the public to be careful when taking money out of cash machines or getting their purse or wallet out to pay for goods.
"It is just being aware of who is round about you," he said.
"If you have got cash on your person and you are approached by a stranger, just ask yourself the question: 'Why are they looking to be helpful when I don't even know this person?'."