Union protest outside new Dumfries hospital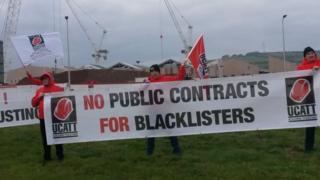 A protest has been held on the site of a new Dumfries hospital over claims of an "aggressive anti-union attitude" at construction firm Laing O'Rourke.
The Union of Construction, Allied Trades and Technicians (UCATT) said it was the first of a series of events.
It said it had lost patience with Laing O'Rourke and accused the company of "anti-worker politics".
A spokesman for the firm said it totally supported the trade union movement and the support it provided.
A consortium including Laing O'Rourke was awarded the contract to build the new multi-million pound hospital in 2014.
Work is well under way on the project to replace the current facility in the town and is due to be completed next year.
Union access 'hindered'
UCATT said it had tried on several occasions to get access to the Dumfries site but had not been allowed proper access and its communications had been ignored by management.
It claimed that rather than allowing workers to speak to a union official during a break in their canteen area the company had "grudgingly suggested" that a room could be provided if they were notified first.
UCATT Scotland regional secretary Steve Dillon said: "The Scottish government must take a stand against contractors feeding off public money but not prepared to engage with the workers' representative, the union.
"This contractor, Laing O'Rourke, should never have got the contract in the first place.
"This is an aggressive, anti-worker, union-busting contractor that has no right to benefit from the public purse. We will be directly challenging Laing O'Rourke every time they undertake these practices in Scotland."
'Positive engagement'
A Laing O'Rourke spokesperson said: "Laing O'Rourke has the largest directly employed operative workforce within the UK building and engineering industry, and regards positive engagement between our managers and employees as vital to maintaining a safe and productive workplace environment.
"We totally support the role of the trade union movement and the support they can provide to our employees and ourselves.
"In this instance, UCATT has not formally requested access to our Dumfries and Galloway project. We would, of course, be happy to discuss UCATT's concerns regarding positive engagement."
The company said it also offered unions the opportunity to advertise the benefits of membership and to recruit members.
"In our view this is the most productive and professional environment for engagement," said the spokesperson.
"In addition we offer a voluntary check off facility to those employees who wish to have their trade union subscriptions deducted from their weekly wage."