Galashiels building firm Murray and Burrell enters administration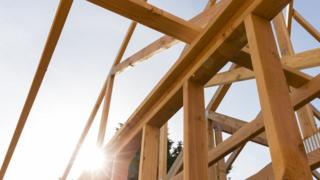 Building firm Murray and Burrell has gone into administration with the potential loss of nearly 40 jobs.
The Galashiels company, established in 1928, employs 35 workers - mostly tradesmen - and two apprentices.
Murray and Burrell staff were told on Wednesday that the receiver was being called in.
Finance director Gary Brown said "with deep regret" that the company could no longer continue operating due to "adverse trading conditions".
The firm has stressed that nobody has been laid off yet and they were still hopeful an alternative option may be found.
'All options'
An announcement on the appointment of an administrator who will be looking at "all possible options" is expected early next week.
In the meantime, while Murray and Burrell is not taking on any new work, the firm will be examining what is already on its books, to see how it can be progressed.
Concerns have been raised over the implications for local suppliers and sub-contractors.
Borders MSP Christine Grahame said she heard of the company's plight on Wednesday night - and raised an urgent constituency question at Holyrood.
First Minister Nicola Sturgeon told her she shared her concern for employees and their families and that government agencies would do what they could to "minimise any impact".