Kilrubie wind farm appeal dropped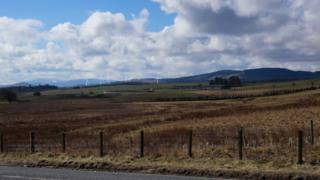 An energy firm has dropped a wind farm planning appeal in light of approval for 18-turbines on a nearby site.
Kilrubie Wind Farm Ltd had taken its case to the Scottish government over Scottish Borders Council's failure to deliver a decision on its scheme.
The project could not co-exist with the recently approved Cloich Forest Wind Farm due to cumulative noise effects.
The company said it would now discuss an alternative scheme for the site near Eddleston with the local authority.
The Cloich Forest project was approved by the Scottish government earlier this year following a public inquiry.
That decision was delivered after an appeal had been lodged over the Kilrubie scheme.
As a result, developers attempted to amend their plans with the Scottish government but they are prohibited from doing so after they have been submitted.
They now intend to look at varying their proposals in order to try to avoid any noise conflict.