Jedburgh Abbey start for Rickshaw Challenge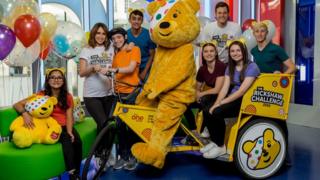 The annual BBC Children in Need Rickshaw Challenge is to set off from one of the Borders' historic abbeys.
Jedburgh will host a live launch on the One Show on Thursday 10 November at a closed event with no public access.
Crowds can, however, watch presenter Matt Baker and children pedal out of town at 05:00 the following morning heading south towards Newcastle.
The week-long fundraising challenge will head down the east coast before a finish in London on 18 November.
The BBC presenter said: "Every year I am inspired by the incredible young people who take on the Rickshaw Challenge, and this year is no different.
"The six young riders in Team Rickshaw have faced major challenges in their lives already, but thanks to the charity they have been able to overcome so much; and now they feel ready to give back.
"We hope that the public will rally behind them to help raise more money for BBC Children in Need. It really does make such a difference."
Scottish Borders Council convener Graham Garvie said he wished the rickshaw team "all the very best".
"Jedburgh Abbey is one of many iconic attractions in the Scottish Borders, and I'm sure that launching the ride from the abbey at night will make for a very atmospheric evening," he said.
Michael Kay, of Historic Environment Scotland, added: "We are delighted that the One Show have chosen Jedburgh Abbey - one of Scotland's most impressive historic sites - to provide an atmospheric backdrop to the launch of this fantastic, fun challenge - for a very worthwhile cause - and look forward to welcoming them."
The full route summary is:
Day 1 - Jedburgh to Newcastle/Gateshead
Day 2 - Newcastle/Gateshead to Hartlepool
Day 3 - Hartlepool to Scarborough
Day 4 - Scarborough to Hull
Day 5 - Hull to Skegness
Day 6 - Skegness to Kings Lynn
Day 7 - Kings Lynn to Duxford
Day 8 - Duxford to London
During the events in Jedburgh, Abbey Place, Abbey Bridge End and the Town Hall car park will be closed to vehicles from 09:00 on 10 November to 08:00 on 11 November.
In addition, a no waiting restriction will be implemented in Abbey Close, where a small number of members of the public will be able to get a limited view of the filming within the abbey on Thursday.
The abbey will close to the public at its normal last entry time of 15:30.