Hunterian collection finds new showcase on Dumfries campus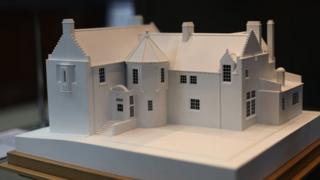 A permanent showcase of the University of Glasgow's renowned Hunterian collections has been launched on its Crichton campus in Dumfries.
The display will be regularly updated and initially focuses on the work of Charles Rennie Mackintosh.
Known as The Hunterian in the South it includes models commissioned for an exhibition first held in 2014.
Dr Carol Hill said they were "absolutely delighted" to be able to host the collection.
The displays have been funded by the Crichton Foundation and Eileen Powell, the widow of Dr John Powell a former consultant at the Crichton Royal Hospital.
Dr Hill said: "The Hunterian is one of Scotland's greatest cultural assets.
"If laid out flat, the Hunterian collections would cover five Hampden-sized football pitches.
"Unfortunately, we only have space to showcase a fraction of the Hunterian's collections, but those on display are real treasures and I hope they will delight visitors to our campus in the months to come."
Prof David Gaimster, director of The Hunterian, said they were pleased to be able to showcase their collections in the south of Scotland.
"Starting with Mackintosh architecture, we aim to create a revolving programme of research exhibits reflecting our rich Glasgow offer," he said.