Scottish Borders cafe culture efforts encouraged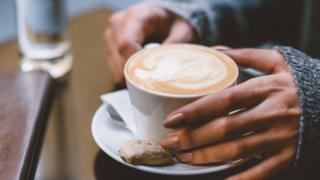 A three-year trial permit system is being proposed to help to encourage a "cafe culture" on high streets throughout the Scottish Borders.
The scheme would allow businesses to temporarily put tables and chairs outside their premises.
A report to councillors said some sites already did so but there was a need for a "consistent approach".
A review of the system is being proposed after its first year if it is agreed by Scottish Borders Council.
The local authority is said to be keen to encourage a more continental atmosphere with "good quality tables and chairs".
However, it also recognised that the needs of pedestrians and those with disabilities needed to be considered.
'Mishmash of tables'
A report to the council's executive committee said some businesses had sought permission for tables and chairs while others had not.
"This has led to a mishmash of tables and chairs on high streets of varying qualities and in various locations," it said.
The permit system would allow greater consistency across the region with a number of terms and conditions applied.
They would include:
food must be the main business of the establishment
permit holders must have insurance to cover external trading
tables and chairs must be of good quality
a solid barrier must surround tables and chairs
the permit holder must keep the area clean and tidy
customers will have to leave the seating area by 21:00
a permit may be withdrawn if "reasonable complaints" cannot be resolved
The report concluded that the system could contribute to "sustainable economic growth" which is one of the council's key priorities.