Kirkcudbright food festival gets under way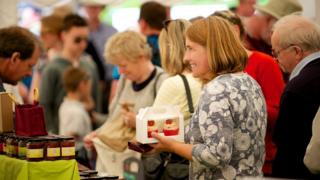 A two-day celebration of local and artisan food is under way in the harbour town of Kirkcudbright.
Organisers said they hoped the weekend event would highlight the "quality produce" of the area.
Chef Nick Nairn will hold three cookery demonstrations alongside a number of other "foodie events and experiences".
Among them are a guide to cooking a perfect steak, a cheesemaking demonstration and a series of foraging walks.
Organiser Niomi Brough said they wanted to "shine a spotlight on the sensational quality of food and drink produced in this part of Scotland".
"It's easy for us to take for granted the wonderful quality of the food in Dumfries and Galloway, so our food festival this year is about taking a moment to appreciate the stories and the passion behind this wonderful food and drink," she said.
She said they had designed a programme with something for everyone.
"Nature's larder is bursting with quality in Dumfries and Galloway and the Kirkcudbright Food Festival is all about sharing, indulging and enjoying our rich food heritage," she added.