Dumfries and Galloway drugs gang members jailed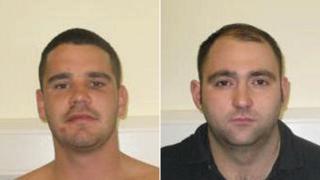 Three members of a drugs gang have been jailed for a total of 18-and-a-half years at the High Court in Glasgow.
Samuel Rodriguez, 28, from Dumfries, was jailed for eight years and Robert Crosbie, 31, also from the south of Scotland town, for three years.
Karl Hart, 36, of Prenton, Merseyside, was jailed for seven-and-a-half years.
The court heard they were caught by an undercover operation which had been set up to investigate a drugs supply network in Dumfries and Galloway.
It was established that the supply route into the area - and other parts of Scotland - originated in the Merseyside area.
Police believed that significant amounts of heroin were arriving in the area on an almost weekly basis.
A case was built against the three accused using phone data, surveillance and CCTV.
Rodriguez was the man at the centre of the operation and Hart supplied the drugs from the Liverpool area. The two were in regular contact to arrange handovers of drugs.
The court heard that Hart supplied the heroin which was then adulterated and passed by courier from Liverpool to Scotland.
Both Hart and Rodriguez admitted being involved in the supply of heroin between July and November 2014.
Co-accused Crosbie admitted being involved in the supply of heroin on 24 November 2014.
They were sentenced by Lady Stacey.
Police Scotland said it was the culmination of the eight-month Operation Woodson to target members of the gang under the control of Rodriguez.
Seven other men from Dumfries, Annan, Kirkpatrick Fleming and Glasgow have received sentences ranging from three months to three years.
'Filthy trade'
Drugs with a street value of about £180,000 and more than £14,000 in cash was also recovered.
Det Insp Mark Carruthers said: "These latest sentences should send out a strong message to those involved in drug supply and serious and organised crime, that the police, our partner agencies, the judicial system and the community will not tolerate their behaviour."
He said the work of Dumfries police had allowed them to "target individuals who committed crimes against vulnerable individuals".
"The amount of misery that this type of activity brings to the streets of towns and villages across Dumfries and Galloway doesn't bear thinking about and the effect that drugs has on our communities can be far-reaching," he said.
"Thankfully our communities are standing up to this filthy trade and letting us know when and where it is happening and we are thankful for that.
"Only when we all stand together can we hope to make a serious impression on the supply of illegal drugs and I would encourage anyone to pick up the phone and call us on 101 if they have any information which might help."