Dumfries and Galloway Arts Festival encourages new events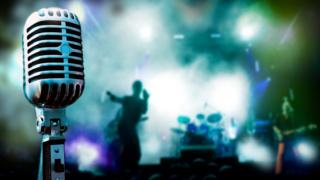 A "guarantee against loss" scheme is aiming to attract new artists, promoters and venues to a south of Scotland arts festival.
Financial backing of between £500 and £3,000 is on offer.
Dumfries and Galloway Arts Festival is offering the support to events based in, or with connections to, the region.
The deadline for applications is on 15 November. Festival chairman Ken Gouge said the goal was to create a programme of high quality and broad appeal.
"What we are aiming to do is encourage promoters, artists and communities from across Dumfries and Galloway to promote the work which they are interested in," he said.
"It may be bringing in performing artists from outside the area or it may be promoting themselves as a local performing artist.
"We are encouraging people to come to us and say, 'Look, we want to put something on.'"
The arts festival can then provide support in terms of advice, advertising, technical support, ticket sales and publicity.
Successful bids will be guaranteed against losses of up to £3,000.
Next year's arts festival takes place between 26 May to 4 June.