Portpatrick village hall closure fears voiced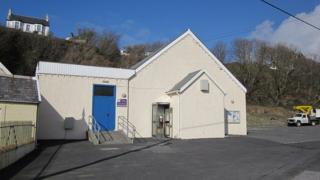 A community council has said it fears a decision not to allow it time to look at taking ownership of a village hall may lead to its closure.
Dumfries and Galloway Council is to seek expressions of interest in the Portpatrick property from other groups.
Community council chairman David Telford said he doubted there would be any interest, leading to its closure.
The council said its decision was consistent with how it had handled other facilities across the region.
Portpatrick Community Council and Portpatrick Harbour Community Benefit Society had hoped to put together a business plan to take over the building.
Mr Telford said he could not understand why the local authority had not given them more time.
'Astounding' decision
"The option they have gone for is to talk to someone else," he said.
"Since we represent the two community groups in the village, we are not sure there is someone else.
"We think it is just a method for effectively closing the hall."
That view was backed up by councillor Iain Dick who described the decision as "astounding".
"Effectively, as far as I am concerned, this is shutting the village hall."
Communities Committee chairman Tom McAughtrie said the site had been treated no differently from any other facility going through the review.
"The proposal put forward by the community benefit society and community council gave no detail either of when they hoped to achieve transfer or how they proposed to reduce the council's financial commitment in the interim," he said.
"As chair, I felt it was appropriate that the issue surrounding the hall in Portpatrick is progressed."
He said the option chosen allowed them to make progress but officers could still engage with the community groups should they "bring forward more detailed proposals".