Scottish Borders Council faces 'challenges' over 1,100-bridges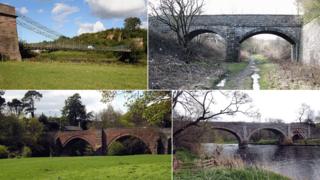 A report has outlined the challenges facing Scottish Borders Council in maintaining more than 1,100 bridges which are its responsibility.
The local authority is also liable for the upkeep of more than 150 culverts.
Many of them are said to be "ageing and in need of repair" but are of "critical importance" for the region.
The report said that regularly checking bridges and undertaking necessary works was "increasingly difficult in the current financial climate".
The full scale of the task facing the council is outlined in a paper for its scrutiny committee.
It has a duty to maintain 963 single span and 143 multi-span bridges spread across a large geographical area.
More than 50 are "shared" with Network Rail with several others shared with Northumberland County Council such as the Union Chain Bridge.
SBC allocates about £800,000 a year to bridge investment through its planning process, but the report showed its actual expenditure has been much higher.
Unidentified risks
Over the past two years it has spent more than £3m.
Two more bridges are likely to present the local authority with considerable expense in the near future.
Clackmae Bridge on the back road between Earlston and Lauder faces a "significant" repairs bill of about £500,000.
The Melrose Bridge - known locally as Lowood Bridge - is also showing signs of deterioration which could cost about £800,000.
"The recent works identified as required on both Clackmae and Melrose bridges are examples of risk to SBC which has not been identified," said the report.
It said that situation created spending pressures and showed that the annual core budget may not be sufficient.
The council is being asked to note the size of the challenge and the measures being considered to improve data on the overall condition of bridges.