Jedburgh brick collector takes Scottish Heritage Angel award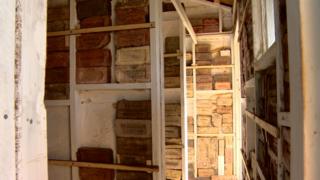 A man from the Borders who has collected more than 2,300 bricks has won a Scottish Heritage Angel award.
Mark Cranston, from Jedburgh, received the honour at a ceremony in Edinburgh.
Projects in Orkney, Whithorn, Bo'ness and Falkirk were also recognised in other categories.
Andrew Lloyd Webber, who funds the awards through his foundation, said they highlighted what could be achieved when people got involved in "rescuing and restoring heritage".
"Huge congratulations to the winners, and indeed to all who were shortlisted, not only for the work they do but for being outstanding ambassadors for heritage," he said.
"I urge everyone to use the light we shine on these projects and their unsung heroes to unlock further funding and to inspire others to get involved."
The awards were given in five categories.
---
Investigating and recording
Mark Cranston was recognised for his project to research and record the Scottish industrial brick industry.
He embarked on his work about five years ago "significantly adding to the current level of information available on the subject".
Over those years he has travelled the country, collecting thousands of bricks, each one of which tells the story of a "fundamental part of Scottish industry as a whole".
---
Caring and protecting
Neil Kermode and the Orkney Heritage Society won for their work to restore the HMS Hampshire or "Kitchener" memorial.
The memorial is dedicated to more than 737 men who lost their lives on 5 June 1916 when the Royal Navy cruiser HMS Hampshire struck a German mine just 1.5 miles off the shore from Orkney - with Lord Kitchener among the casualties.
The group has "worked tirelessly to restore the memorial to its original condition".
---
Sharing and celebrating
The Friends of Kinneil received recognition for efforts to champion the heritage of Kinneil House, museum, estate and nature reserve in Bo'ness.
This year is the charity's 10th anniversary, as well as the 250th anniversary of James Watt's invention of the condensing steam engine.
Much of the formative work to create that invention was carried out at the house and the group has led on the Scottish commemorations as well as delivering a number of local events.
---
Young Heritage Angel
Dig TV young volunteer group created TV content on a major archaeological excavation at Black Loch of Myrton, near Whithorn.
The young volunteers created "engaging content", carrying out all the filming, directing, interviewing and editing to enable nightly bulletins to be broadcast, which presented archaeological findings almost as they happened, engaging with an entirely new audience in the process.
---
Lifetime contribution
Brian Watters was honoured for his work on the Carron Iron Works in Falkirk which he has been researching for more than 30 years.
During those years he has devoted much of his spare time to undertaking hours of research, delivering countless talks and presentations with local schools, community groups, and historical societies.
He has published two books on the subject and "done much to advance the local, national, and worldwide knowledge" of the iron works and its related industrial history.
---
Culture Secretary Fiona Hyslop said the awards provided a platform to celebrate those "selfless individuals" around the country who devoted their time and energy to a "cause bigger than themselves" to the benefit of their communities and further afield.
She said they often did so with "little or no recognition or thanks".
"It is equally important that we recognise the contribution of every person who has given up their time for no pay, in order to help, in some small way, all of us to better understand, protect, and value our heritage," she added.
"I hope that their dedication inspires many others to get involved as well."