Eyemouth lifeboat station given historic medal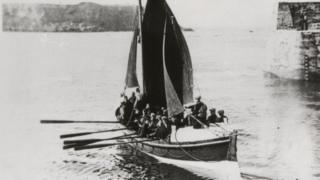 A medal given for a dramatic rescue nearly 100 years ago has been passed to Eyemouth lifeboat station by the recipient's great-great-grandson.
The Norwegian schooner Livlig was caught in severe gales off the Borders coast on 6 March 1917.
The Eyemouth lifeboat Anne Francis was called out and seven crew seen clinging to the rigging were rescued.
Coxswain William Miller received an RNLI bronze medal which has been passed on by his descendant John Miller.
The schooner was travelling to the east coast of England when it ran into trouble.
It was first seen from Eyemouth before being spotted in "great distress" off St Abbs Head where it was taking on water.
One man had already been washed overboard while the remaining crew were hanging on to the rigging.
The Eyemouth lifeboat under Mr Miller's command was launched into the teeth of the gale and breaking seas.
It took the crew more than an hour to get alongside the Livlig as they struggled against the terrible conditions.
Showing "great skill and courage" the lifeboat crew was able to rescue all the people stuck on the schooner.
The heavy seas made it too dangerous to return to Eyemouth, however, and Mr Miller decided to head north towards the Firth of Forth.
The lifeboat eventually struggled its way to Granton where crews of both boats were taken to the Sailors Home in Leith for rest and medical care.
The lifeboat crew returned to Eyemouth by train the following day, and when the weather improved, returned to Granton and sailed the Anne Francis home.
'Outstanding seamanship'
The body of a seaman wearing oilskins and lifebelt bearing the name of the Livlig was found on the beach at Seacliffe, near Dunbar, the day after the rescue.
For his "truly outstanding seamanship and leadership", the RNLI awarded William Miller a bronze medal.
His crew, George Lowrie, Alex Rae, Andrew Craig, William Johnstone, Robert Crombie, A Dougal, J Burgon, Robert Lough, James Dickson, John Gillie and D Young were all given monetary awards.
Mr Miller's medal has now been passed into the care of Eyemouth lifeboat station by his relative.
"Eyemouth lifeboat station and its crew are honoured to be the custodians of William Miller's bronze medal and all it stands for," a spokesman said.