Artistic ideas sought for Selkirk flood scheme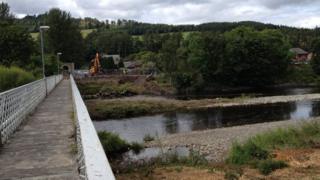 Artists are being invited to take a tour of a flood protection scheme in the Borders to help inspire three associated permanent public art works.
Construction on the £31.4m Selkirk project is scheduled to be completed this year.
A site visit is being offered to artists on Thursday to help them come up with ideas for public artworks.
Further information will also be provided with the closing date for tenders on 11 November.
A shortlist is then expected to be drawn up to help the chosen artists develop their ideas.
It will be followed by a public exhibition for local people to provide feedback, before a final decision is made on which artists have been successful.