Dumfries and Galloway police station assurances issued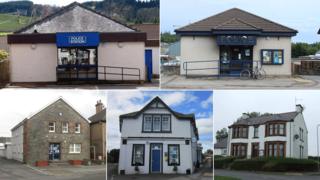 Dumfries and Galloway's divisional commander has promised no reduction in police presence despite the potential closure of eight stations.
Consultation is under way about the fate of sites in Whithorn, Dalry, Moffat, Kirkcudbright, Dalbeattie, Gretna, Thornhill and Langholm.
It has prompted concerns about police visibility in the areas involved.
However, Ch Supt Gary Ritchie insisted they would actually be looking to enhance their presence in the towns.
"Each one of these locations that we have identified is probably not serving the community as well as it could," he said.
"For each and every one we are looking at alternatives.
"It absolutely does not mean a reduction in manpower. If anything, because of some of the changes that we have made recently, I am hoping that communities will see an enhancement in that provision."
Better access
He said police presence had "very, very little" to do with having a big station building in an area as they would often be sitting empty.
Ch Supt Ritchie said he understood that the properties were a reassurance to communities but he felt they could be served better.
"We will not be removing the police presence, we will be looking to enhance it," he said.
"I would far rather have a facility where the public knew the police were going to be there and can actually access it.
"It would be again far better if that was in a location where there were other community services there as well."