Dumfries couple paused Edinburgh wedding to watch Still Game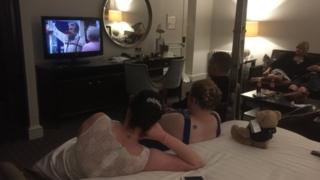 A bride from Dumfries has been explaining why she halted her wedding reception in Edinburgh to let everyone attending watch the sitcom Still Game.
Leanne and Stuart Mcsherry got married at the Norton House Hotel on Friday.
She told BBC Radio Scotland's Call Kaye programme that both she and her brother had not wanted to miss the first episode of the new series.
Star Ford Kiernan - who plays Jack - said he had "laughed out loud" when he saw the story in the newspaper.
"It really did make me cough up my tea that somebody would go to that bother," he said.
"What a great thing, thanks Leanne."
Ms Mcsherry said the idea to halt proceedings and let all the guests watch the show was hatched when they realised the first episode coincided with their big day.
"I have been a big fan of Still Game and my brother Gary is as well," she said.
"When we heard that the first episode, was going to be on on my wedding my brother just automatically said: 'I have to go back to the room to watch it'.
"There were only 19 of us at the wedding so it wasn't like a massive wedding - so it was doable.
"Stuart, my husband, arranged it with the duty manager at the hotel to watch it, it was great."