New £9.7m Broomlands Primary in Kelso works officially start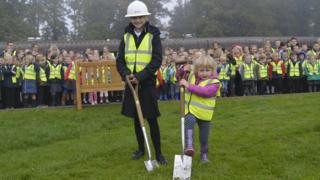 The youngest and the oldest pupil at a Borders primary have marked the official start of work on a new school.
Sophia Berni and Brodie Lawson cut the first sods for the £9.7m Broomlands Primary project in Kelso.
Construction work is being carried out by McLaughlin and Harvey and is expected to be completed in 2018.
The school, with a roll of about 250 pupils, will have 12 classrooms, early years centre, new games hall/dining room and upgraded playground.
Councillor Sandy Aitchison said: "The current Broomlands building has served generations of pupils since it opened in 1980.
"After 36 years, it is time for a modern school building to take its place, and I know pupils, parents and staff will be looking forward to moving in once work is completed."
McLaughlin and Harvey is also currently working with Scottish Borders Council on the construction of Langlee Primary School in Galashiels, which is due to open in 2018.