Amateur photographer captures 'dancing' starlings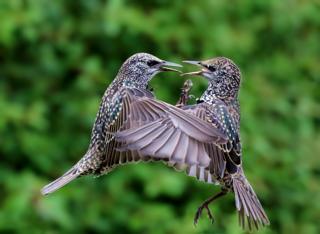 An incredible shot of "dancing" starlings has been captured by an amateur photographer in his front garden.
Jim Halliday spotted the pair squabbling over bird food left outside his home in Annan.
Nature-lover Jim was in his garage at the time with a camera to hand.
"I had just put down some cheese on an old stone bird bath, then these guys appeared and started scrapping for a free meal," he said.
"I managed to turn round at the noise they were making and snapped away quickly.
"I always carry my camera everywhere, you just never know with nature."
Jim couldn't believe the "once-in-a lifetime" shot he had captured. He took up photography as a hobby three years ago.
He posted his photo to his Facebook page and got a fantastic response. Many commented that the starlings appeared to be locked in a dance.
"I have been overwhelmed with the beautiful comments," said Jim.
"I have many nature and photography groups on my page and the reaction has been hugely appreciated."