Hawick's Wilton Lodge Park facelift ahead of schedule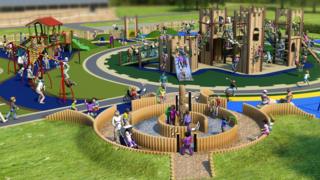 A significant slice of works being carried out in a £3.65m overhaul of a Borders park is set to be completed ahead of schedule.
Construction of a new cafe and bridge is already under way at the Wilton Lodge Park in Hawick.
Agreement has now been reached to allow work to start on a new play park three months earlier than anticipated.
It should ensure that all the facilities are ready to open ahead of their target date in April next year.
The overall project completion date remains in April 2018.