Dumfries and Galloway health care needs 'different model'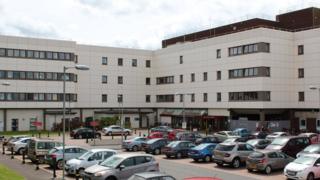 The chief executive of NHS Dumfries and Galloway has said a "different model" of delivering services is required in order to meet its savings targets.
The health board needs to cut £12m from its spending in the coming year.
A shift in focus to prevention rather than cure is being planned in a bid to reduce costs.
Jeff Ace said there was "very limited mileage" in trying to provide all current services for less money and an alternative approach was needed.
"The key is redesign," he said. "There are efficiencies that you can make and constantly make but really what you need to do is introduce a different model of health and social care."
He said by looking at the way people wanted to access services they could then manage the "pathways of care" to deliver best value.
"I think integration gives us a real opportunity to do that, working with social care colleagues in a way that we have never really done formally before," he said.
He said that could "smooth out inefficiencies" and create "very slick and very efficient models of care".