Mabie and Heathhall forest warning issued over tree disease work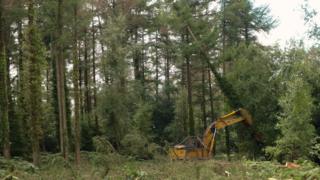 Public access is to be restricted to two forests near Dumfries while work starts to slow the spread of a disease killing larch trees.
Felling operations are set to start at Mabie and Heathhall over the next few months.
They will remove trees infected with Phytophthora ramorum as well as some unaffected by the disease.
Forest Enterprise Scotland (FES) said notices would be posted of any works and trail closures involved.
The disease has badly affected larch trees in south west Scotland for several years.
This latest work hopes to slow its spread eastwards.
Improved design
Sallie Bailey, FES district manager, said; "We appreciate that this will cause some inconvenience to visitors, but it's important that we commence these works as soon as possible to slow the spread of the disease.
"The felling will impact on the landscape but it will give us the opportunity to improve the design of the forest.
"The affected areas will be replanted as soon as possible."
Warning signs and diversions will be put in place and visitors have been asked to follow any advice given to ensure their safety.
Members of the public have also been asked to clean boots, kit, bike tyres and even their dogs' paws before visiting forests as mud from one site could carry disease to another.
Visitors should check trail updates for Heathhall and Mabie ahead of their trips.