Property firm Wirefox snaps up Dumfries retail centre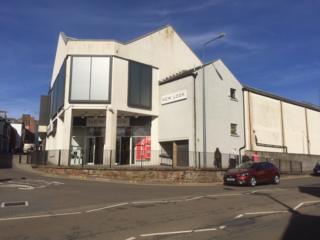 A Northern Irish development company has made its first retail investment in Scotland at a large commercial centre in Dumfries.
The Southergate Centre includes 14 units on the town's High Street, opposite the Loreburn Centre.
The firm said it had "exciting plans" for the site which was on the market for £6.75m.
A spokesman said it had "major redevelopment potential" and it was considering a "number of leisure uses".
The company, based at Holywood, County Down, has already bought three residential developments in Scotland.
However, the Dumfries and Galloway site - which also includes a 185-space public car park - is its first move into the retail sector in the country.
The firm said it was in talks with a number of operators about a range of possible new leisure uses at two of the units, including a family restaurant, cinema and gym among others.
Michael Wright, director of asset management at Wirefox, said: "This is a significant acquisition for Wirefox as Southergate Centre is our first retail property investment in the Scottish market.
"Following successful residential purchases in Edinburgh and the Scottish Borders, this investment augments our portfolio in Scotland and will act as a springboard to further deals.
"Southergate Centre represents a significant 'value add' opportunity for the heart of Dumfries and we intend to apply an effective asset management strategy over a five-year period which will physically enhance the current offering, maximise returns and provide a balanced mixed-use development."
Among the plans could be a change of use for a current nightclub on the site and a former bank.
"There is major redevelopment potential and we are considering designs for a number of leisure uses," said Mr Wright.
"Wirefox has developed a stellar pedigree for strategic acquisitions and successful asset management, and Southergate Centre is another feather in our cap."
Twelve of Southergate Centre's 14 units are retail-based and currently fully let to a number of national high street tenants.