Senior doctors seek Borders General Hospital upgrade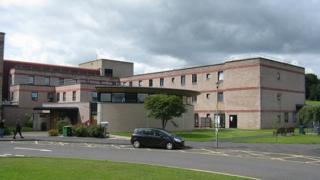 Senior doctors at the Borders General Hospital (BGH) have said the "time has come" for investment in the facility which opened in the 1980s.
NHS Borders chairman John Raine said health staff did not want to see the region being neglected.
He stressed that the hospital near Melrose could still provide the public with a "very good service".
However, he added that he believed a strong case could be made for investment in the site.
"I would suppose you would see a public building of 30 years as being modern but hospitals and hospital services do move on," he said.
"There are a number of improvements we would like to see.
"I have been listening to some of our consultants and those who represent the senior medical consultants here who feel that our time has come really - the Borders needs some investment."
'Long-term view'
Mr Raine said the Borders did not want to miss out on investment being seen in other parts of the country.
"I think probably what health staff here in the Borders see is new developments elsewhere in Scotland and they think, well, we don't want to be neglected," he said.
"If there is funding - capital money - available at any time then there is a good case to be made for investment at the BGH.
"I certainly would not want people to think that we can't provide them with a very good service which we can.
"But we are looking years ahead - when it comes to improving hospital facilities you have got to take a long-term view."