Stranraer oyster festival gathers pace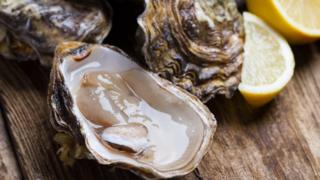 Plans for an oyster festival in a Dumfries and Galloway town next year are "moving ahead confidently".
The event is set to launch in September 2017 in Stranraer.
Stranraer Development Trust has asked local people and businesses to help come up with ideas to help create a blueprint for the festival.
A community survey has been launched online to allow them to give their input on how they would like to see the event take shape.
Local food and drink expert Liz Ramsay was recently appointed to lead the consultation which has been backed by the Loch Ryan Oyster Fishery.
Chairman of Stranraer Development Trust Romano Petrucci said: "Plans for the Stranraer Oyster Festival are now moving ahead confidently, and I'm delighted that we have the backing of Loch Ryan Oyster Fishery as well as the support of Liz in developing plans for the festival.
"Liz has an impressive track record in making local food and drink events and activities happen, so the trust was keen to make use of both her knowledge of food events, and her many contacts in the industry.
"The plan is to create a festival that will involve and inspire our whole town, and which will create a late summer tourism highlight to attract visitors to Stranraer."