Thornhill-based Halo Trust gains £2m Ukraine work boost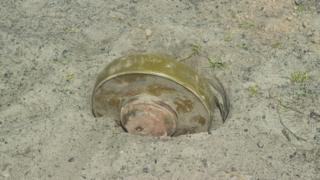 A Scottish land mine clearance charity has received an additional £2m to continue operations in Ukraine over the next two years.
The funding for the Thornhill-based Halo Trust was announced by Foreign Secretary Boris Johnson while in Kiev.
Chief executive James Cowan said the support let them "respond quickly" to the needs of the Ukrainian people.
He said their work would allow members of the public to return to their homes and land.
"Halo is playing a major part in delivering stability in eastern Ukraine," he said.
The charity said land mines had been used extensively in the area since conflict began in April 2014.
'Normal life'
It said there had been at least 559 civilian casualties since then, with the average casualty rate this year more than 20 per month.
Halo launched its programme in Ukraine in November 2015.
It currently employs more than 100 staff in the area and in September began clearance in the village of Pavlopil in response to an appeal from the local community.
"People are trying to return to normal life in areas where the fighting has either passed by or stabilised but a safe return is restricted by the presence of land mines," a charity statement said.
"Clearance is supporting safe cultivation, the rebuilding of homes and the reconstruction of infrastructure."