Culture and creativity of the Borders celebrated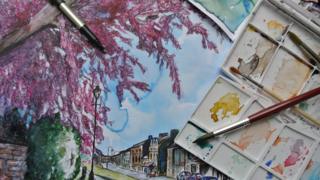 A new festival is set to celebrate the cultural heritage and creative industries of the Scottish Borders.
The Creative Coathanger event runs from 24 September to 9 October with activities focused on the towns of Galashiels, Selkirk and Hawick.
One highlight is the unveiling of a Flying Scotsman mural by Edinburgh-based artist Chris Rutterford.
Exhibitions, film showcases, open studios, performances and a craft beer festival are also planned.
Other key events include:
a town centre "transformation" for Galashiels to showcase creative industries in the area
a National Galleries of Scotland exhibition
a mini film festival
a series of presentations by Borders-based designers and makers
wool craft workshops
a stone carving exhibition
Mark Timmins, one of the festival directors for Creative Coathanger, said the Borders had a "plentiful, unique and world famous creative heritage".
"This success continues today across everything creative, with some of our greatest exports including the actor and star of the TV series Outlander Grant O'Rourke, contemporary artists like Ant Macari and textiles sought-after by some iconic fashion brands like Chanel, Dior and Vivienne Westwood," he said.
"The area has even attracted bands as big as the Rolling Stones.
"We believe that all of this should be celebrated and further creative talent positively encouraged.
"Creative Coathanger exists to encourage a range of individuals and organisations to hang their events from our festival."
He said the festival was "starting small" but hoped to follow in the footsteps of other creative festivals across the country.
Karen Dick, of Creative Scotland, said: "Creative Coathanger provides an important platform to bring the community in Galashiels and the Scottish Borders together to discover local artists, performers and those working across the creative industries in their area.
"The Scottish Borders are world renowned for their textiles and we are delighted to support this festival which encompasses such a wide range of creative practice."
VisitScotland regional director Doug Wilson said the festival was a "real commitment" to attracting visitors to the area.
Councillor Vicky Davidson added: "The coming of the Borders Railway and the recent surge in creative energy around Galashiels has resulted in this exciting new festival.
"It showcases the very high quality of Borders designers, artists, creative businesses and general creative talent in the Borders, all of which have gone largely unnoticed by the rest of Scotland for far too long.
"There are too many highlights to hang on one coathanger - this is a whole designer wardrobe full of creative delights."