Dozens interested in Penman Engineering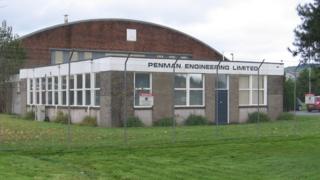 Administrators have started marketing armoured vehicle maker Penman Engineering for sale to more than 60 interested parties.
The firm based near Dumfries went into administration last week putting 140 jobs at risk.
Administrators Armstrong Watson said the business was continuing to trade while a buyer was sought.
Spokesman Mark Ranson confirmed there had been no redundancies at the south of Scotland site.
"During the last few days the administrators have been in an intensive series of meetings with key customers with a view to ensuring that the business can continue to trade whilst a purchaser is sought," he said.
"Initial meetings have progressed well, and further customer reaction to matters discussed is expected during the course of next week.
"We have also engaged with a number of suppliers to discuss re-opening the supply chain to the business."
Briefing document
He said the support of the Penman employees was "really appreciated".
"The entire workforce was briefed by me on Tuesday afternoon and we will continue to update all staff on a weekly basis," he said.
"Weekly-paid staff have been paid today. There have been no redundancies.
"The process of marketing the business for sale commenced yesterday with the issue of a briefing document to over 60 interested parties."
Mr Ranson said press and social media advertising had been placed and they were liaising with Scottish Enterprise and others to ensure that the sale process was as widely-known as possible among "credible prospective purchasers".