First minister promises support for Penman Engineering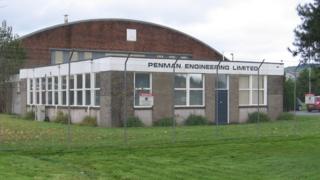 First Minister Nicola Sturgeon has said Scottish Enterprise is working with administrators to avoid redundancies at a military vehicle firm.
The fate of Penman Engineering - which went into administration last week - was raised by MSP Oliver Mundell.
He wanted assurances Scottish Enterprise would "pull out all the stops" to safeguard 140 jobs.
Ms Sturgeon said that effort had already begun as administrators sought a buyer for the business near Dumfries.
"I was obviously disappointed to hear that Penman Engineering had entered administration putting 140 jobs at risk," she said.
"I know that this will be a really difficult time for those who are affected and for their families as well as for the local area.
"Scottish Enterprise is already working closely with the administrators to help them find a buyer for the business and retain as many jobs as possible."
She said the Partnership Action for Continuing Employment (PACE) was providing support for those who "may be faced with redundancy".
'Quick-fire sale'
"Let me stress and underline the fact that Scottish Enterprise is working with the administrators to try to avoid redundancies taking place," she added.
Dumfriesshire MSP Mr Mundell said he was "encouraged" by the response but that efforts to preserve posts must be maintained.
"The 140 jobs which are at risk in my constituency are the equivalent of 1,000 jobs in the Central Belt so the first minister must continue to give Scottish Enterprise all the support they need," he said.
"Like the first minister, I have absolutely no wish to see any redundancies proceed at this historic firm as any redundancies have a devastating effect in Dumfriesshire.
"No one wants to see the firm asset stripped or production move elsewhere in a quick-fire sale and I believe that serious and meaningful support from Scottish Enterprise is required to help ensure the right buyer is identified."
He said it was "imperative" that all agencies worked together to protect the business.