Toilets relief at Borders Railway terminus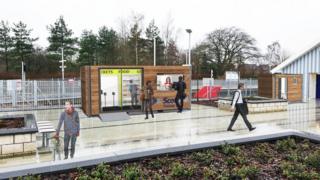 Toilets are to be built at the Tweedbank terminus of the Borders Railway to tackle a "common issue" raised by passengers.
They will be constructed along with a refreshments kiosk early in the new year.
Scottish Borders Council leader David Parker said the railway had been a "huge success" but the issue of a lack of toilets had been regularly raised.
He said he was sure the new facilities would be welcomed by passengers.
Funding for the project came from ScotRail and the Borders Railway blueprint group.
The announcement came on the first anniversary of the opening of the route between Edinburgh and the Scottish Borders.