River Nith in Dumfries set for sailing celebration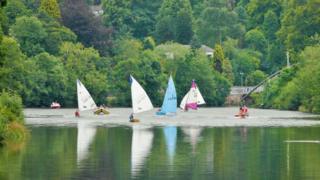 Thousands of people are expected to line the banks of the River Nith in Dumfries for an event celebrating the town's maritime history.
The fourth annual Nithraid on Saturday includes a sailing race and pop-up arts and food village.
The event is organised by the artists' collective the Stove Network.
The Nithraid programme starts at the Midsteeple where performance artists lead a procession through the town centre to the waterside at Mill Green.
They carry with them the Salty Coo symbol of the event.
Music and art activities will provide the entertainment for crowds as they await the culmination of the sailing boat race.
A variety of craft will navigate from the Solway Firth to the finish line helped on by one of the highest tides of the year.
The winning skipper will be given the honour of leading the ceremonial lowering of the Salty Coo into the river.