Dumfries DG One repair work starts after lengthy delay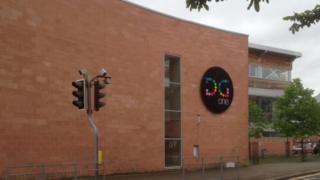 A £10m repairs project is starting at a trouble-hit leisure centre in Dumfries - nearly two years after it was originally scheduled to begin.
The DG One site closed in October 2014 but a lengthy legal wrangle meant remedial works could not get under way.
The dispute with builders Kier Construction was settled earlier this year to allow repairs to start.
They are expected to take about 18 months to complete, meaning a likely reopening date in spring 2018.
Dumfries and Galloway Council confirmed that work was starting on the repairs at the flagship site.
A spokesman said: "We're sorry for any inconvenience but, in order to ensure the safety of the public and the workforce, we need to close the DG One car park and prevent public access for the duration of the remedial works.
"It is expected that the works will last around 18 months."
Replacement gym facilities at the Loreburn Hall and a temporary swimming pool at Dumfries Ice Bowl will remain in place while the work is carried out.