Richard III links to St Ninian's shrine in Whithorn studied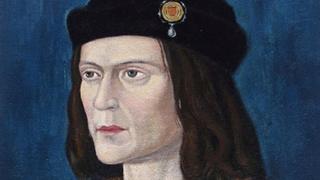 Researchers are examining the possibility that English king Richard III may have visited the site of St Ninian's shrine in south west Scotland.
The Whithorn Trust and the Scottish branch of the Richard III Society are working on the project.
They are studying how the monarch might have encountered the cult of the saint, resulting in a possible pilgrimage.
A new interpretation board on the subject is being unveiled in Whithorn this weekend.
Richard III was crowned King of England in 1483, but died just two years later in the Battle of Bosworth Field.
His private prayer book, which was placed on his coffin during his re-interment last year, contained a prayer to St Ninian of Whithorn in the king's own handwriting.
Immortal souls
A spokesman for the Whithorn Trust said: "We were fully aware of the devotion to St Ninian by Scottish Kings and Queens, but the English cult of St Ninian, particularly by royal devotees, has remained comparatively unexamined until now.
"It is interesting that Richard III's worship of the saint appears to have belonged to his private spiritual life and to his concern for the immortal souls of his family, and does not appear to have been displayed publicly for political purposes.
"We are looking forward to further research, which intriguingly might reveal a pilgrimage to Whithorn by this most famous of Plantagenets.
"Researchers tell us that there may be a time in the 1470s when this might have been possible and certainly the Solway was the route for English pilgrimage to Whithorn, via its port at the Isle of Whithorn."
Phillippa Langley, who is leading the Finding Richard project, is to unveil the interpretation board in the town.
She will also give the Whithorn Trust lecture on the quest for King Richard, with an introduction focussing on his Whithorn connections, at the Wigtown Book Festival on 25 September.