Spring Fling arts event 'worth £1.5m'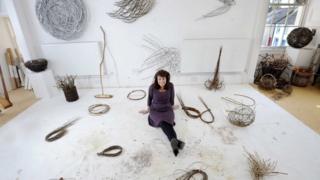 A report on an annual open studios event staged across Dumfries and Galloway has said it was worth £1.5m to the region's economy.
Spring Fling attracted more than 13,500 visitors between 28 and 30 May.
The financial impact and number of visits were up slightly on the figures posted by last year's event.
A total of £216,000 was spent in the 94 participating venues this year with the rest of the economic benefits going to other local businesses.
Joanna Macaulay, of Upland which runs the event, said: "It was another excellent year for Spring Fling, and for artists and makers all across the region.
"The event has grown and matured to become a much-loved part of Scotland's arts calendar, bringing in visitors from far afield.
"What's especially pleasing for us is that it acts as a showcase both for the creative community in Dumfries and Galloway and for the region itself."
'Drawing power'
She said preparations were already being made for the 15th birthday edition next year.
Dumfries and Galloway Council's events champion Colin Smyth said the results were "extraordinary" and the event should not be "taken for granted".
"To attract more than 40,000 studio visits is superb and a great testimony to the drawing power of the participating artists and craft makers and the quality of the event's marketing," he said.
"Spring Fling creates a new way of discovering Dumfries and Galloway and learning about, and enjoying, the work of nearly 100 of our best artists and craft makers.
"The cultural and economic importance of Spring Fling is hugely important to the region and the £1.5m economic impact is just the tip of the iceberg of the benefits it generates for our region."