Galashiels football team's plea over dog fouling issue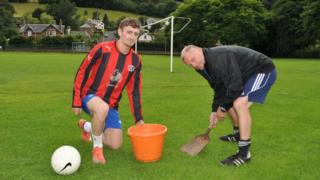 A football team in the Borders has urged members of the public to help it tackle the problem of dog fouling on its pitch.
Gala Hotspur FC said it was "hugely frustrating" to have to clean up before every home game.
It is now backing a Scottish Borders Council campaign to try to address the issue.
The authority recently appointed two enforcement officers on a 12-month trial to try to improve the situation.
Gala Hotspur coach Fred Blackie said: "It is not just the fact that we play football here, but there is also a playpark metres away which is regularly used by small children.
"It would be great if people listened to the message from the council's campaign.
"It would mean sports clubs such as ourselves would not have to spend this season cleaning up after other people's dogs."
'Irresponsible owners'
Councillor David Paterson said the council was keen to address issues like those being experienced by the Galashiels side.
"The Borders has a proud history of sporting achievement which we want to continue," he said.
"However, pitches which are plagued by dog fouling could well put off players from taking part in sport.
"This minority of irresponsible owners need to realise how disgusting it is for sports teams to have to play on pitches which have been fouled on by their pets and these owners are asked to clean it up.
"If they do not, there is now the real threat of an £80 fine or potential court appearance."