Police hunt Dumfries taxi stone-thrower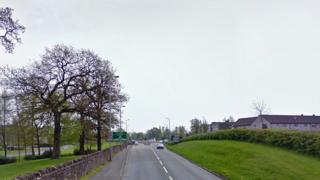 Police have appealed for witnesses to an act of "extreme reckless conduct" after a large stone was thrown at a moving taxi in Dumfries.
The incident happened at about 23:55 of Saturday on the A76 just north of the McDonald's restaurant.
A brick-sized stone was thrown at the Skoda Rapid taxi and damaged its bonnet and roof.
PC Bruce Kemp said: "I cannot believe the stupidity of anyone carrying out such a reckless act.
"This could have caused serious injury or even death if the car driver had lost control of his vehicle.
"The taxi was carrying passengers at the time."
He appealed for anyone who may have seen anything suspicious in the area around the time to come forward.