Edinburgh and Peebles backdrop for new Highlands thriller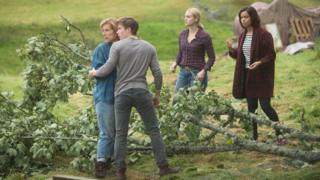 A new BBC drama thriller set in the Highlands and shot in Edinburgh and the Scottish Borders is hitting the screens.
The first episode of the four-part drama One of Us is broadcast on BBC One at 21:00.
Filming took place in the capital and around Peebles which doubled for the Highlands.
Scottish Borders Council said it highlighted the region's role as a "fantastic location" for filming.
"Hopefully this latest one will not only help to attract more media productions to the area but also encourage more visitors to Peebles," said councillor Stuart Bell.
One of Us tells the story of childhood sweethearts Adam Elliot and Grace Douglas who are just back from their honeymoon when they are brutally murdered.
Rosie Ellison, film manager for Film Edinburgh, said the city was proving a popular area for this type of thriller.
"Edinburgh has an amazing history of crime drama, but it was really from the nineties that Edinburgh became popular as the backdrop for crime productions," she said.
"The appetite for the genre across the globe is stronger than ever and with 40% of all visitors choosing to come to a destination they have seen on screen.
"The new crime drama guide is a perfect opportunity for locals and visitors to seek out some of the city's most iconic locations from across the decades."
Members of the cast have also paid tribute to the location used.
Juliet Stevenson said: "Where we shot was so beautiful.
"My mum's family come from the Borders and it was a real joy to be there.
"Some parts have an amazingly bleak landscape but others are very soft and gentle with rolling streams."
Fellow cast member Joe Dempsie also enjoyed his time in Scotland.
"Peebles and the Scottish Borders is beautiful and when you are used to living in London there are times when it's too frantic," he said.
"Whereas life certainly stops in Peebles - if you want it to."
One of Us begins at 21:00 on BBC One on Tuesday 23 August.