CCTV images issued in search for missing Robert Cantle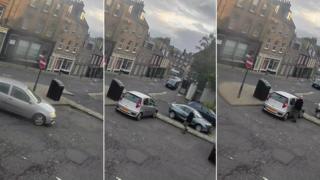 Police have published CCTV images of the last sighting of a man missing from his home since Sunday morning.
Officers investigating Robert Cantle's disappearance from Hawick say they are "extremely concerned for his welfare".
They believe Mr Cantle, who has Type 1 diabetes, does not have his medication with him.
The photographs show him getting into his silver Fiat Punto in Hawick at 06:08 on Sunday.
Police believe he used the car to travel to Jedburgh that morning.
They have searched properties and used the Police Scotland helicopter in the hunt for Mr Cantle.
Insp Tony Hodges said: "We are issuing the CCTV images in the hope that they will jog someone's memory, having seen Robert or his car in the past week.
"Our enquiries lead us to believe that he has left Hawick and travelled to the Jedburgh area, but so far we have not located Robert or his vehicle.
"We are extremely concerned for his welfare, due to the length of time he has now been missing for without any sightings, his apparent lack of medication, and not having made any known contact with friends and family.
"Anyone with any information is asked to contact police immediately."
Mr Cantle is 5ft 7in tall, and of stocky build. He has a shaven head and a red beard.
He wears spectacles and when he was last seen he was wearing a black zipped fleece jacket and a blue T-shirt with a large 'Everest' logo on the front.