New lifeboat arrives in St Abbs after Tunnocks donation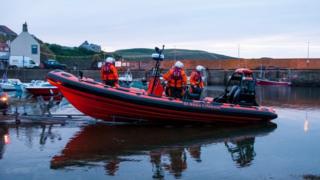 A new lifeboat has arrived in St Abbs, 10 months after the RNLI removed its service from the Borders village.
Local people raised more than £300,000 for the boat, helped by a donation from the owner of teacake firm Tunnocks.
Boyd Tunnock gave £250,000 to the campaign to operate an independent lifeboat in the area which is popular with divers.
The boat will be named after his grandfather and late brother - Thomas Tunnock - in a ceremony in September.
A spokesman for the fundraising campaign, said the "whole village" turned out to welcome the boat's arrival on Thursday.
He said it would be the one of the speediest and hi-tech lifeboats in the country.
"Powered by twin 200hp engines, with state of the art electronics, it will be one of the quickest and most technologically advanced lifeboats in the UK, and will be ideal for the incidents most encountered along the Berwickshire coastline," he said.
"Everyone involved with St Abbs independent lifeboat would like to take this opportunity of thanking the public for their overwhelming support and backing.
"We look forward to St Abbs continuing the 105 year-old tradition of saving lives, for which the village has rightly become synonymous."
The RNLI closed its lifeboat station in St Abbs in September, bringing to an end a 104-year association with the village.
The charity said there was "not a clear need" to have a separate facility so close to its Eyemouth station.