Unmarked motorcycle patrols to target Borders roads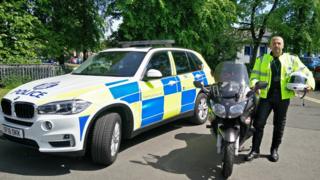 An unmarked police motorcycle will be used to patrol four roads in the Scottish Borders in an effort to cut the number of accidents.
The A68, A702, A7 and the A697 will be patrolled this weekend with a bike equipped with a digital recording device.
The force said it followed the deaths or serious injury of nine motorcyclists so far this summer.
The patrols will take place from Friday until Sunday 31 July.
Insp Roddy MacMillan said there had already been an increase in the number of tourists and foreign drivers who were unfamiliar with the area's roads.
He added: "Therefore, I would encourage motorcyclists to slow down, use their observation skills, comply with the speed limits and take extra care when planning and negotiating overtakes."